Photo curtesy: Toyota

The Toyota Corolla 2020 has come with newly added features that make it stand out bold than its predecessor, the 2019 corolla. Not only does it have to beat its older version with upgraded features, but it has also become a more competitive brand against other strong brands such as the Honda Civic 2020. This freshly equipped model has a sleek and modernized look both in its interior and exterior.
The Toyota Corolla 2020 is an easy and comfortable car that even a teenager can drive on the tracks without any difficulty. Currently, this class model holds an 8.0 out of 10 for its quality road performances. The Toyota Corolla 2020 comes in two variants - the Corolla sedan and the Corolla hatchback. Whichever one you wish to go for would fully benefit your driving activities because each variant has enough features, including advanced safety features, adaptive cruise control, and the Apple Car play technology.
The Toyota manufacturers have finally come up with a unique fast car that has not only triggered its competitors (The Honda Civic 2020 and Mazda 2020) but also given its customers a futuristic driving experience.
At Carghana.com, we believe that the Toyota Corolla cars are the best brands to purchase in Ghana. It is a reliable car, fast and easy to control.
So how good is the Toyota Corolla 2020? 
The Toyota Corolla 2020 is a decent compact car in the sense that it helps to reduce fuel costs and has a high-reliability rating.  It also has numerous standard driver assistance features and a user-friendly infotainment system. Generally, its excellent dependability, high safety ratings, accident-avoidance technologies, and all-round quality performance has proven this car to be the best option available for your purchase.
The Corolla's performance
The Toyota Corolla comes in five trim levels - L, LE, SE, XLE, and XSE.  The L, LE, and XLE use a 1.8-liter four-cylinder engine that produces 108 horsepower and 126-foot pounds of torque. These variants also operate with a six-speed automatic transmission that drives front wheels. The SE and the XLE variants have a 2.0-liter engine of about 169 horsepower and 151 foot-pounds of torque that functions with specialized CVT automatic paddle shifters. The SE also has a six-speed manual transmission.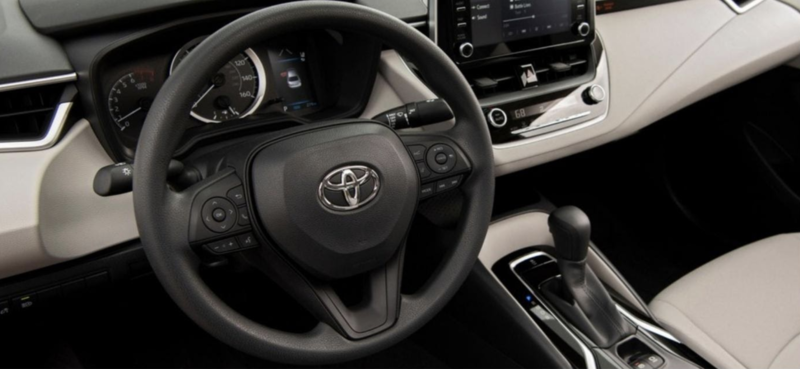 Photo curtesy: Toyota
The Toyota Corolla 2020 is estimated to drive 30 MPG in the city and 38 MPG in highway roads, making it very economical in fuel usage. The CVT equipped trims with the 2.0-liter engine are more fuel-efficient because they have an EPA-estimate of 31 MPG in the city and 40 MPG in highway roads. 
The Corolla's interior 
Both the Corolla hatchback and sedan can accommodate five people, which is two people (driver and front passenger) in the front seats and three in the rear seats. Higher trim levels have sport seats that provide decent side bolstering and support for prolonged driving. The car also provides two complete sets of LATCH connectors to create seating space for children.
The interior uses quality leathered materials, except its cabin, which has a few hard plastics design in it.  
Its inner features 
Toyota Corolla 2020's standard infotainment system includes a 7-inch touch screen, Bluetooth, a USB port, Apple Car play voice recognition, and a built-in WIFI. Nearly all controls stay one place, and its 7-inch touch screen is positioned high on the dashboard, with other physical buttons on the side of the screen for shortcuts.
All trims above the base level use an 8-inch screen and upgraded Entune app functionality. Other optional features include an HD radio, satellite radio, a 7-inch digital driver information display, navigation, wireless charging, and a nine-speaker JBL premium stereo.
The Corolla's Exterior and Cargo space
The Corolla sedan holds a length size of about 15.2 feet, and its curb weight ranges from 2,910 to 3,150 pounds. The sedan model contains about 13 cubic feet of trunk space, which is good enough for its size. If you want more space for your items, you can also fold the back seats.
The Corolla Hatchback holds 17.8 cubic feet of space at the trunk and 23.3 cubic feet with back seats folded down.
For more details on the Toyota Corolla 2020, here's a short YouTube video - https://youtu.be/Y0tcDV_50hk
Where to get a Toyota Corolla automobile? 
Carghana offers a variety of Toyota Corolla cars at affordable rates in Ghana. You can also get the new Toyota Corolla 2020 at a price ranging from GHS 65,000 to GHS 100,000. The platform allows you to make contacts with the local car vendors by offering your bid on the vehicle.
Hurry up now and get the Toyota Corolla 2020!