Photo Courtesy: toyotaghana.com

The Toyota Yaris is available in two styles - The Sedan and the Subcompact car. The sedan is the most recent model that comes with nicely equipped features, and it is very economical regarding its less fuel consumption during road trips. 
The Subcompact car has already been in use since 2012. And its counterpart, "the Yaris Sedan," is a more upgraded version of it. This model has a pleasant and rewarding road performance and also economizes fuel as the Sedan model.
So if you are looking for the best fuel-efficient cars with good road performances to buy, then the Toyota Yaris is the perfect choice for you.
At Carghana.com, you can get a Toyota Yaris within an average cost. The Toyota Yaris is one of the top personal cars to purchase in Ghana.
So what does the Toyota Yaris have to offer that could persuade you to purchase it? Below, we will discuss the quality features of the Toyota Yaris 2019.  

Road Performance

The Toyota Yaris 2019 uses a 1.5-liter four-cylinder engine that produces 106 horsepower with either a six-speed manual or automatic transmission. Its drivetrain is a front-wheel drive. The Toyota Yaris is a comfortable car that offers drivers a sleek drive and responsive handling. Its available engine is strong enough to run the vehicle adequately in the city. However, it moves at an average speed level on highways.

Safety

The Yaris 2019 is a safe car to drive because it comes with well-equipped safety features that will ensure the security of the driver and his passengers during unpleasant road situations. It has also been awarded as a safe model to use by different traffic agencies, one of which is the NHTSA. The Toyota Yaris 2019 has the second-highest rating of its advanced standard vehicle-to-vehicle front crash prevention system.
Its Standard Advanced Safety features include:

•    Rearview camera
•    Low-speed forward-collision warning
•    Forward automatic emergency braking

Its available advanced safety features include:

•    Rain-sensing windshield wipers
•    Automatic headlights
•    Daytime running lights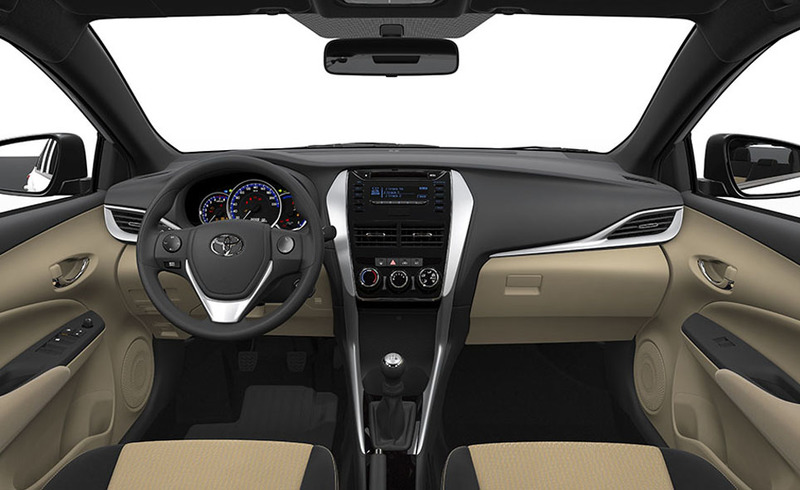 Photo Courtesy: toyotaghana.com

The Interior 

The Toyota Yaris 2019 can accommodate five people, that's two (a driver and front passenger) in the front seat and three in the back seat. The front seats are comfortable and spacious enough to offer enough head and legroom. However, the space at the back seats is a bit smaller. 
The Yaris 2019 has a fashionable look inside and features mainly soft-touch and hard plastic materials. Its standard seating features include cloth upholstery, and its available seating features include synthetic leather for front-row seats and a leather-wrapped steering wheel.
The car also provides two complete sets of Latch car-seats connectors that create seating space for children. 

Although the Yaris 2019 doesn't offer smartphone integration technology through android auto or apple car play, its standard infotainment interface contains a user-friendly touch screen and an accessible climate and audio knobs on the control panel. Its Standard infotainment features include:

•    a 7-inch touch screen
•    Two USB ports
•    Blue tooth and satellite radio
•    HD Radio and six speakers
•    And voice recognition. 

Available infotainment features include: navigation. Other available features: remote keyless entry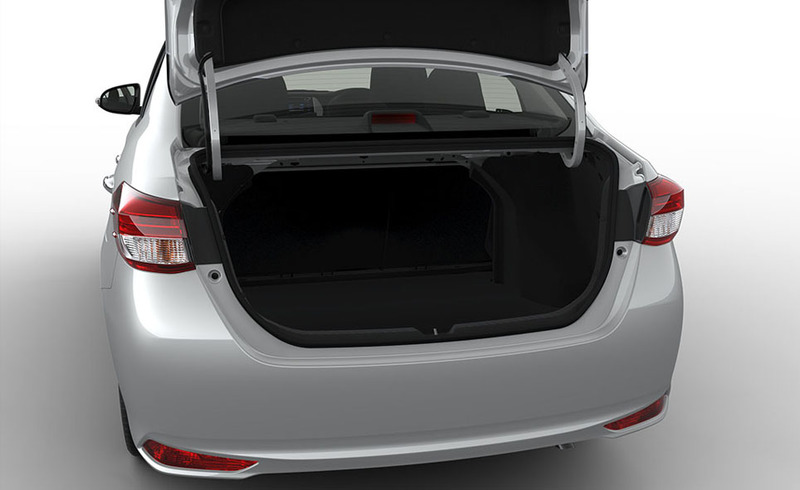 Photo Courtesy: toyotaghana.com

The Exterior

The Yaris 2019 automobile has three available trims - L, LE, and XLE. If you are looking for the right trim level that will offer quality driving services, then you can go for the L trim because it has numerous features to satisfy your needs. However, you can still go for higher trims if you want an upgrade in cargo space, etc. 

Last but not least, the cubic feet of the car's trunk space is measured 13.5, which is sufficient enough for its subcompact model. The car's length is 12 feet and 11 inches, while its curb weight is 2,315 to 2,335 pounds.
With these brief details of the Yaris 2019 automobile, purchasing this brand should be amongst your top choices. If you are searching for where to acquire the Yaris sedan or subcompact car, then try Carghana.com. This online car dealing platform offers various Yaris models at prices ranging from GHS 30,000 to GHS 85,000 in Ghana. You can also contact the local car vendors by negotiating your offer on the vehicle.

For more details on the Toyota Yaris 2019, here's a short Youtube video - https://youtu.be/6H8vTtrHqrY
Do not forget to subscribe to carghana.com for the latest updates on your favorite vehicle.